Google has added 54 new countries to Google Maps. On the Google Lat Long Blog, a product manager notes that they have doubled coverage in Latin America and now cover three times more countries in Asia.
Some of our Caribbean neighbors such as Bahamas, Bermuda and Haiti all now have detailed street maps. As Venezuela falls into the Latin America area they have also been updated. Seemingly a phased approach we can hope that the remainder of the Caribbean is next.
Looking at the St Augustine area of Trinidad (below) it seems that Google only has to enter the street names now as they have already mapped out most of the major streets. If you need a more detailed view and know what you are looking for switching to the Satellite view will suffice or using Google Earth.
Hopefully all of the various "traces" and "tracks" get the proper allocations on Google Maps. A step forward certainly but not yet on the verge of Google Street Views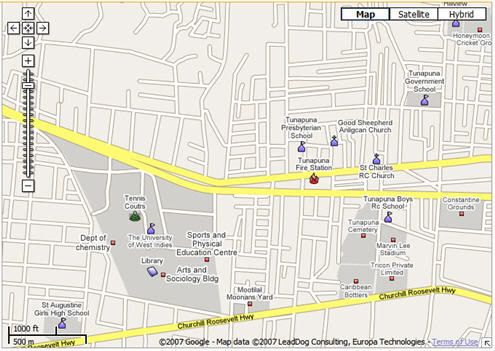 Here's A Few More Related Posts!!
Google Earth Trinidad and Tobago
Put voters' map online, EBC!!
Trinidad Traffic Rank
Top 10 Blogs Update
RSS Tweaking
3 Comments »